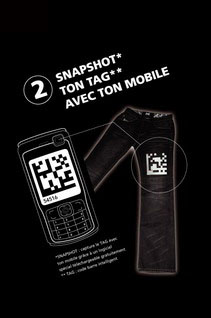 Without a doubt a cool and original marketing campaign from denim-code in France. From their pressrelease:
"Levi's invented jeans and Diesel turned them into a fashion item. Now DENIM CODE is taking jeans into the interactive digital communication era. DENIM CODE, the new French brand of jeans, has come up with a revolutionary concept consisting of making it possible to access an audio/video recording free of charge from a pair of DENIM CODE jeans."
Simple and glamorous:
- The consumer can choose not only their jeans but their "universe": by snapshotting* the tag** with their mobile phone, they can watch video clips, listen to music, see films, watch programmes, listen to the news…..
- A collection of over 200 different models for men and women enabling you to access the worlds of music, sport, films, video games or people…
- Jeans are evolving in line with the times, thanks to the content of the denim code tag, which will be regularly updated.
DENIM CODE collections will be placed on sale via a multi-brand distribution network.
In April DENIM CODE STORE, a 180 sq.m. boutique and showroom, will be opening in Paris in the fashionable Etienne Marcel district.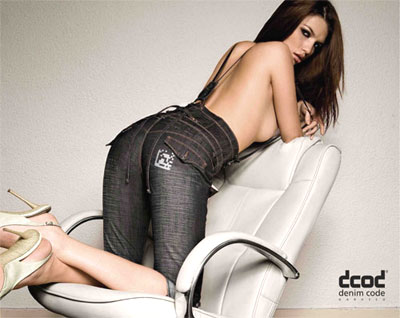 All very cool and another sign that Proximity Marketing is getting real (!) and a nice variation on Yasmine's my body is a hypertext project.
One note on the visual campaign though: why in the world would I want to tag the jeans from the girl above to download all that entertainment for my mobile phone, while all the fun is in front of me?
Via Heike Scholz
about.me

Enabling Next Generation Mobile Products & Services

Rudy De Waele is CEO & co-founder of Nyota Media - the world's first growth agency for innovative African entrepreneurs, start-ups and international companies that use technology to improve the lives of Africans.

He is a Mobile Strategist, Business Angel and Appreneur with over 18 years of experience in Internet technology, specialising in mobile innovation and start ups since 1999.

He is a co-founder of dotopen, Mobile Premier Awards, AppCircus and MobileMonday in Barcelona Spain, and is a member of the Mobile 2.0 Advisory Committee in both San Francisco and Barcelona.

Rudy has curated ground-breaking presentations in Mobile Trends 2020 (2010), Mobile Trends 2020 Africa (2011), and most recently Mobile Opportunities in Africa - Engaging the next Billion (2012).

He has consulted for Telefonica, Vodafone, MTN, Orange, Telcel, Millicom, Samsung, Nokia, BlackBerry, IBM, Intel, Microsoft, Admob (acquired by Google), Louis Vuitton, Philippe Starck, Young & Rubicam, Cheil Worldwide.

A graduate from Singularity University, he has lectured at Web 2.0 Expo, The Next Web, PICNIC, next, MIDEM, Mobile 2.0, Mobile Monday and MIPTV.

Search mTrends